StrongArm® Electric Winches
A. The most common cause is when the jack handle is squeezed between the trailer tongue and the bumper of the towing vehicle. Other symptoms of this condition would be a damaged handle bushing and or a missing top cap in addition to the broken handle. It is important to realize that the trailer jack will reduce how tightly one can turn, and care must be taken not to pinch the jack between the tongue and bumper. Sometimes re-positioning the jack is helpful in preventing this kind of damage.
A. No, this "20" number printed on your jack's label is the part number for that label and is not the part number for the jack itself.  For help with figuring out your jack's part number, please see the graphic displayed in the FAQ answer listed below.
A. Please refer to the graphic below for help with determining your tongue jack's model number and when it was manufactured.  For help with figuring out the part number of your jack if it was manufactured before May 2010, please call us at 1-800-569-6577 between 8 AM  and 5 PM Central Time, Monday through Friday.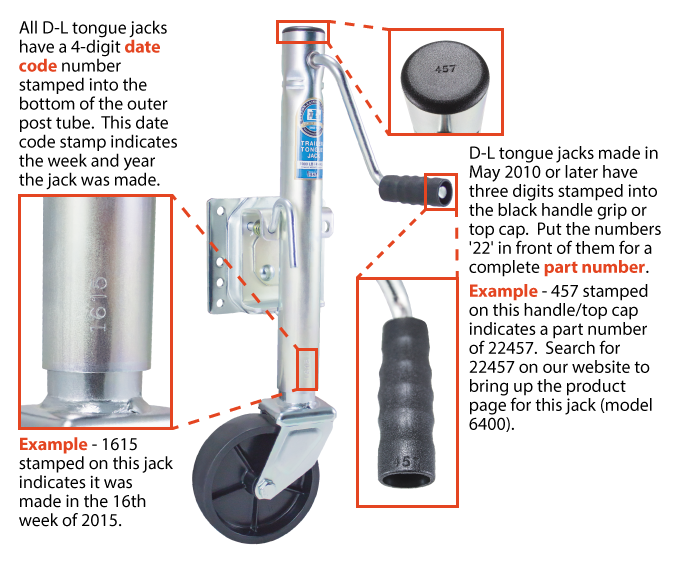 A. There are normal manufacturing variations in ball size, so adjustment may be necessary when changing from one tow vehicle to another. Some wear also occurs over time. D-L couplers are easily adjusted without tools. With the coupler in the open position it can be adjusted by pushing up on the ball clamp and nut locking channel and then turning the nut as needed. Proper adjustment is obtained when the coupler is as tight as possible on the ball and the locking lever can still be opened and closed.


A. The ball clamp may not be properly engaged on the large rivet in the coupler housing. The large tab on the back side of the ball clamp must fit over the top of the rivet in the housing. On 1 7/8″ couplers the problem could be caused by the nut locking channel(immediately above the nut) being improperly positioned. It should be installed with the open ends aligned side to side in the coupler. If it is aligned with the open ends front to back, the locking lever may not open and close properly. The instructions that came with the coupler illustrate the proper orientation of the ball clamp and nut locking channel.
A. You most likely saw our name on one of our couplers (along with a coupler model number like 980-2, 985-3, etc.) and not on the actual trailer.  We continue to manufacture couplers, but we sell them to many different trailer manufacturers all over the country, so we are unable to help with identifying your trailer or providing more information about it.