Copyright © 2015

Approximate Load Speed (ft./min.)
Model(1)
Volts / Amps
Load Capacity(3)
Gear Ratio
Cable
Pulley
Block
& Hook
No Load
Full Reel
No Load
Empty Reel
Full Load
Full Reel
Full Load
Empty Reel
SA5000 & SA5015
12 Volt DC / 70
1500 lb/681 kg
189:01:00
"3/16"" x 20' (6360)"
33
12
8
4
SA5000AC & SA5015AC
120 Volt AC / 8
1200 lb/545 kg
189:01:00
"3/16"" x 20' (6360)"
35
16
16
9
SA7000 & SA7015
12 Volt DC / 70
2200 lb/999 kg
189:01:00
"3/16"" x 50' (6211)"
X
16
6
4.5
3
SA7000AC & SA7015AC
120 Volt AC / 8
1800 lb/817 kg
189:01:00
"3/16"" x 50' (6211)"
X
17.5
8
9.5
6
SA9000 & SA9015
12 Volt DC / 70
3000 lb/1362 kg
570:01:00
"7/32"" x 25' (6361)"
11
5
4
2
SA9000AC & SA9015AC
120 Volt AC / 8
2700 lb/1226 kg
570:01:00
"7/32"" x 25' (6361)"
18
6
7
3
SA12000 & SA12015
12 Volt DC / 70
4500 lb/2043 kg
570:01:00
"7/32"" x 50' (6212)"
X
5
2.5
2
1
SA12000AC & SA12015AC
120 Volt AC / 8
4000 lb/1816 kg
570:01:00
"7/32"" x 50' (6212)"
X
9
3
4
2
SA9005
Same as SA9000 except less clutch with Remote Kit #6383
SA9010AC
Same as SA9000AC except less clutch with stainless steel reel & GFCI in 10' cord and 6349 Dynamic Brake
(1) Model numbers with 15 have built-in remote control (AC models use 6349 remote).
(2) Double line operation.
(3) For a full reel of line, adjust capacity according to graph.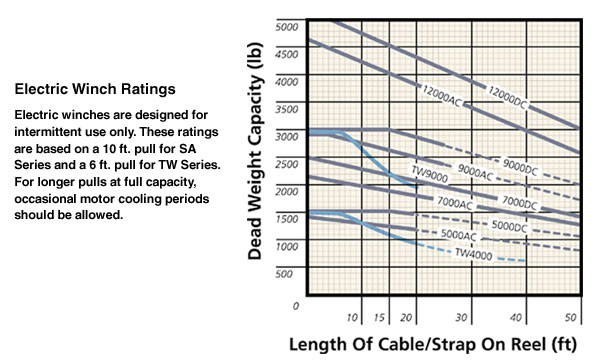 All D-L StrongArm electric winches are built for multipurpose hauling and pulling operations.
They are not to be used as hoists for lifting, supporting, or transporting people, or for handling
loads over areas where people could be present.

Products :
- Air Cleaners
- Anchors
- Cargo Management
- Couplers / Accessories
- Grease Guns / Cartridge
- Fencing Tools
- Fuel Tank Filters
- Oil Cans
- Repair Parts
- Tongue Jacks
- Trailer
- Wheel Bearings
- Winches





DUTTON-LAINSON COMPANY
451 WEST SECOND STREET
HASTINGS, NE 68901
dlsales@dutton-lainson.com